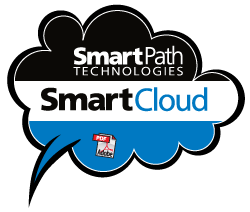 Handling interoffice e-mail, shared calendars and tasks, and group or public calendars with Microsoft Outlook has traditionally been done with the use of an Exchange Server. The only problem for businesses is that Microsoft Exchange requires expensive hardware and expensive licensing. SmartPath Technologies is an area pioneer in offering all of the benefits of group collaboration and email without the cost of servers and software licensing. We do this through hosted Exchange – we handle all of the complicated technical things and all of the infrastructure, and you pay an easy, affordable monthly fee. This shifts costs associated with e-mail to a cost of doing business expense rather than a capital expenditure. See how your business can reach new heights of productivity when hosted by SmartPath Technologies, all while saving you money and time.
Microsoft Exchange Server is the leading business-grade messaging system employed in North America and is currently used by 160 million people worldwide. Exchange offers a number of capabilities, including email, calendaring, task management, address lists, and access to shared document repositories, and other functions. Exchange was originally introduced in June 1996 and has been upgraded several times since to include additional and enhanced features.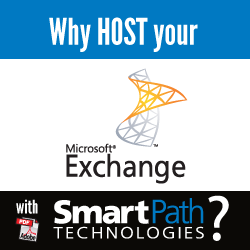 Hosted Exchange has been offered for several years by a large and growing number of providers around the world. There are roughly 150 providers of hosted Exchange services worldwide, although these vendors vary widely in terms of their capabilities, the number of users they support, the ancillary services they provide, their pricing, etc. As of late 2011, there were roughly 13 million users of hosted Exchange worldwide, up from just 1.5 million seats in mid-2007.
If you have an Exchange Server in your organization, or are paying for e-mail services from another provider, SmartPath Technologies wants to provide you a free cost analysis so you can see if hosted Exchange is capable of saving you money.
Maintain security
Enterprise managed firewalls - packet inspection & intrusion detection.
Protect against viruses - email is the #1 method for spreading computer viruses. We perform automatic virus checking of all inbound and outbound emails and their attachments.
You will still have the familiar controls you are use to, such as:
File, Contact and Calendar Sharing
POP3, IMAP and SMTP Support
Integrated Instant Messaging
Centralized Management Console
Feel safe that your valuable company data is in a secure data center.
No up-front cost to install an email server
Fast and Simple deployment
No need for a specialist on site to manage email server
Updates are provided automatically
Malicious content is blocked before reaching the corporate network
E-mail hosting is a "green" solution
We stay on top of the latest security holes being used by hackers to ensure that you data is always secure.
Your domain is the key to your business. You can increase your marketing by making your email address have your business name in it. Business owners send and receive over a 100 emails a day. With each email your business name is getting out there for people to find.