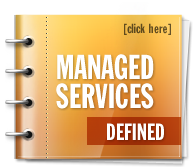 ITWorks might be thought to be synonymous with "it works" because it does.  ITWorks is a technology support program designed to dramatically reduce or eliminate computer problems in your business while maximizing your network's speed, performance, and stability, without the expense of a full-time IT staff. A few years ago a great client said something that ultimately had a dramatic impact on the services we provide.   After a costly data loss incident, the client said, "I'd much rather pay you for things not to break in the first place, rather than have you fix stuff once it's broken." It made great sense and ITWorks was born.  Unlike other western Kentucky and southern Illinois computer consultants who profit from the failures in your IT environment, our ITWorks Proactive Technology Support PREVENTS computer problems from escalating into unexpected downtime, data loss, interruptions in business, and financial loss. In fact, our ITWorks program does not allow us to profit from your technology troubles in any way.
This program is ideal for business owners who:
Need to have their computer network, e-mail, database, and Internet access up and running 24/7/365 without problems.
Value the security of their data, and want to do everything possible to prevent loss, corruption, or theft.
Want to maximize the speed, availability, and performance of their computer network.
Hate dealing with–or thinking about–computer problems and other complexities of operating a computer network.
Don't have the time or staff to deal with computer support.
The Benefits of ITWorks proactive services:
You'll avoid expensive repairs and recovery costs. Our network monitoring and ongoing computer maintenance will save you money by preventing expensive network disasters from ever happening in the first place. As a matter of fact, we guarantee it.
You'll experience faster performance, fewer glitches, and very little downtime. Some parts of your system will degrade in performance over time, causing them to slow down, hang up, and crash. Our preventive computer support and network monitoring will detect these problems early and prevent them from escalating into more expensive repairs and downtime.
You'll feel as though you have an in-house IT department – without the costs.  As an ITWorks Proactive Services customer, you'll have access to a knowledgeable support staff that can be reached immediately should you have any kind of problem or question.
You'll receive substantial discounts on IT services that you are already buying. Most IT firms will nickel and dime you over every little thing they do. Under this program, you'll pay one flat, affordable rate and get all of the technical support you need. No hidden charges, caveats, or disclaimers.
You'll eliminate trip fees and receive faster response to your problems. Thanks to our remote monitoring and computer support software, we will have the ability to remotely access and repair most network problems right from our offices. If we cannot fix it remotely, we will dispatch a technician to your office within a guaranteed amount of time.
You'll be able to budget for computer support just like rent or insurance. Wouldn't it be nice to avoid unexpected costs for fixing or restoring your network? Now you can.
You'll sleep easier knowing the "gremlins at the gate" are being watched.  Cyber criminals never sleep! But thanks to our 24/7/365 monitoring and on-going maintenance, you'll have one less thing to worry about.
You'll safeguard your data. The data on your hard disk is always more important than the hardware that houses it. If you rely on your computer systems for daily operations, it's time to get serious about protecting your critical, irreplaceable electronic information.
You'll stop annoying spam, pop-ups, and spyware from taking over your computer and your network. Not only are these intruders annoying, but they can introduce viruses and jeopardize the security of your network.
You'll gain incredible peace of mind. As a business owner, you already have enough to worry about. We'll make sure everything pertaining to your computer network security and reliability is handled so you don't have to worry about it.
More and more small business owners are looking to technology support plans to keep their technology running smoothly, allowing them to focus on running their businesses instead of dealing with constant technology issues